Africa is Taking the Space Story Beyond Tales by Moonlight
"I still have the vision of the future of man. I still feel man will freely move from one planet to another."- Edward Makuka Nkwoloso
Africa has always had its sights on space.
Traditionally; stargazing, tales by moonlight and other astrological habits have always been a part of our culture. At best, this is basic astronomy if you ask me.
Let me tell you a story!
In 1964, a Zambian school teacher, Edward Makuka Nkwoloso, launched one of the most notable space programs. His plan was to use an Aluminium rocket to put a woman, two cats and a missionary into space. Nkwoloso's aim was to get to the moon and then Mars, using a catapult system.
Mostly, dressed in his standard-issue combat helmet, a khaki uniform and a flowing multicoloured silk or heliotrope velvet; he founded the Zambia National Academy of Science and spearheaded space & Astronomical research to start training his afronauts in his headquarters, 20 miles from Lusaka.
He trained his astronauts, including a 16-year-old girl by spinning them around a tree in an oil drum and teaching them to walk on their hands; "The only way humans could walk on the moon" and simulating weightlessness.
"I'm getting them acclimatised to space-travel by placing them in my space-capsule every day. It's a 40-gallon oil drum in which they sit, and I then roll them down a hill."
The school teacher's dream of winning the race( against Russia and USA) on being the first person to put a man on the moon was not successful; the self-appointed Director General could not get enough funds to complete this project, as the best he could get in terms of funds was 10,000 rupees from a 10-year-old space-minded schoolboy in India).
1969, Apollo II was launched and America became the first country to complete a successful manned mission to the moon.
Back to Africa. Things have evolved.
In recent years, many countries on the continent have woken up to the potential and usefulness of space technology. South Africa and Nigeria leading the charge in Sub-Saharan Africa and Algeria & Egypt making strides in North Africa.
I was at the 1st African  Space Generation Workshop in Akure with the theme, Space: The Driver of the Desired Future in Africa, and it featured discussions and recommendations to public, private and non-governmental stakeholders towards providing insight into the future of the Continent's space industry.
We were divided into work groups and my workgroup focused on Space in driving the African economy/Aerospace startups. Anchored by Oluseye Johnson and Jeff Hantheon, we set the pace in discussing the available value chains in the industry that Africans can participate in and the product market fit. With a view to properly understanding the connection, I dug deeper.
Products/Services we can offer:
CubeSATs- satellites
Research & Development
Remote Sensing
Astronomy
Surveillance
Data processing
Climate services
Software development
The Market & People who will patronise:
Military/Surveillance
Transport/logistics
Mining /Agriculture
Satellite Companies
Telecommunication/Media companies
Oil&Gas/ Survey companies
Government
Industrial partners.
In practical examples, Ethiopia's ministry of science and Technology announced that it will launch a satellite into orbit in three to five years to better develop its weather- monitoring capabilities. This follows the 2015 launch of a privately funded, multi-million dollar astronomical observatory by the Ethiopian Space Science Society(ESSS)—An independent organisation established in 2004—to utilize the station's unique ability to observe practically all the sky; both northern and southern hemispheres. By raising awareness of things above Earth, the society hopes that it can serve as a source of inspiration for Ethiopia's  next generation of problem solvers.
In the same vein, since launching its first satellite in 1999 and establishing the South African National Space Agency in 2010; South  Africa has been on the forefront of the continent's involvement in space evolution. It is home to an arm of the Internationational Astronomical Union, which uses astronomy as a tool for education and development, as well as the project to develop the world's largest radio telescope together with Australia and eight other African countries. And in recent times, South Africa had a joint surveillance programme with Russia, intended to help the country's military gather all -weather, day and night radar imagery.
Egypt has also invested in a military satellite with the aid of Russia. The Country's national authority for space hopes to use space technology to drive innovation and discover resources. The North African country has four satellites, the first of which was launched in 1998. These satellites are used for ground analysis, mainly for agricultural purposes in the Nile region. They also observe the country's mainland and coastal line by taking high-resolution pictures of the land for environmental, scientific and security purposes.
Still, on security and Military, Nigeria's space agency has used Satellites to assist security agencies in locating Boko Haram insurgents and monitoring the happenings in the Niger Delta region.
With the help of the Chinese, Nigeria also launched NigComSat-1R in December 2011. It is a hybrid geostationary satellite with a 15-year lifespan that has provided improved and cost-effective wireless and internet coverage for Nigerians. The government estimates that $10m (£6.5m) can be made from direct-to-home TV initiatives made possible by the satellite which is just a  part of the satellite's expanded opportunities for broadcast companies. It also utilizes a DFH-4-band to bring telecommunication services to the larger West Africa. NigeriaSat-2 and NigeriaSat-X, launched in August 2011 from the Dnepr rocket in Russia, provide high-resolution and medium-resolution satellite images that Nigeria can tap into a whole new set of commercial opportunities.
On CubeSATs, Cape Peninsula University of Technology launched South Africa's first CubeSAT—a type of nano-satellite—known as ZACUBE-1. Ghana and Nigeria enjoyed similar successes earlier this year and a few other African countries are considering same. The question is, how can we explore its many benefits?
Kenya launched its first Satelite in 1970 and announced plans in 2015  to launch a space centre with the stated aim of boosting its development goals. Interestingly, the country discovered two aquifers via satellite that could be a reliable source of water supply for 70 years. Also, Kenya's geographic position on the equator makes it an ideal place to launch satellites into geostationary and other orbits.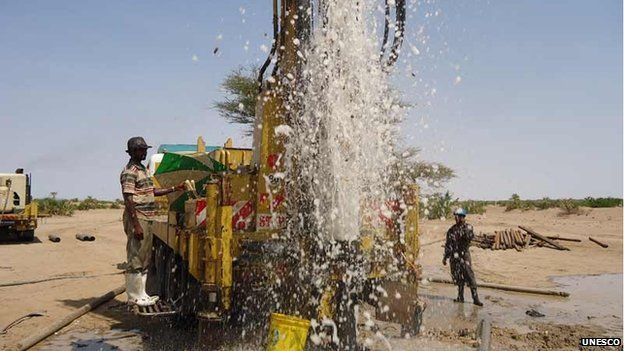 North African countries like Algeria and Morroco have launched satellites in recent years to monitor disasters, improve urban planning and promote remote surveillance applications.
Amnesty International has pioneered the use of satellite images for human rights research and advocacy over the past six years using imagery from GeoEye and DigitalGlobe. It has also used satellite imagery to collect information about Boko Haram's activities. Satellite photos taken in January showed the scale of the group's atrocities after they attacked the towns of Baga and Doron Baga.
Oil and Mineral rich Angola has also announced plans on launching its first satellite, AngoSAT-1 into orbit next month. Already, it has managed to sell 65% of the Ku-band capacity of the satellite.
With continued collaborations such as the South African National Space Agency(SANSA) working with the Zambia remote sensing centre in a research project using satellite earth observation date for drought, soil and vegetation monitoring, Africa can build the needed aggregate momentum towards a better space future.
The plethora of possible benefits combined with other crucial hard to quantify advantages like inspiring youth increased national pride and advancement education means Africa does not have an option than to leverage some of the value chains outlined in the different paragraphs of this article.
With the African space policy and strategy, adopted by the African Union(Underscoring the importance of the political will in making any headway–Government) in January last year which strengthens calls for the development of a legal framework to manage the continent's outer-space program, maybe we can do more and raise awareness of the role that space science and technology can play in improving lives and creating wealth.