PyconNG2017: Growing the Community of Python Programmers
Nigeria has an upwardly mobile tech ecosystem.
Software engineers, web developers, data analysts, cloud architects and so on.
But today we are focused on programmers that use Python.
PyconNG2017 was a conference organised by members of the Python Users Nigeria Group, a nonprofit organisation dedicated to advancing and promoting the use of Python programming language in the country
The conference(PyconNG2017) which held from 15th to 16TH of September was a gathering of programmers, enthusiasts, companies and organizations in Nigeria and abroad at the ground floor auditorium of the Lagos Chambers of Commerce and Industry(LCCI) Lagos. It is the largest annual gathering for the Python community in Nigeria using the open-source Python programming language.
The first day featured a keynote address by Iwan Vosloo  "Is Open Source a Luxury in Africa?". Chukwudi Nwachukwu spoke on Reduce Stress: Automate with Python and XMPP, Seun Awoyele shared his thoughts on Working Better as a Developer while Osaretin Daniel spoke on Continuous Integration for Python applications with Gitlab.
Other speakers for day 1 included Opetunde Adepoju on How Data Science is solving life-threatening problems in Africa, Design Patterns with Python by Cleopatra Douglas, The Learning Process by Abiola Oyeniyi, Python for Security Enthusiasts and Ethical Hackers by Shehu Awwal and Asynchronous Programming in python: How and when to use it by Jubril Issa
For me, the highlight of Day 1 was Shehu Awwal coming out to speak on Python for Security Enthusiasts and Ethical Hackers. You know how people call you a scammer or yahoo boy just because you spend so much time on your phone but you know you are just a person addicted to Twitter, Instagram and Snapchat? That is the same way some people call developers "hackers". The fact that someone creates software or builds a website doesn't mean the individual is a hacker; listening to a real hacker giving a talk on ethically hacking systems with python was so cool!
However, the major attraction for building software is to create or build products or services. I feel it is a little different from a hacker trying to break into something someone else built. The usefulness of this to a developer is sometimes questionable and it is easy to cross ethical boundaries and possibly land jail time. The twist to this is, hacking represents dangerous waters and one should tread carefully.
The organizers of PyconNG2017 really did a good job putting the conference together. And yes, there was Nigerian Jollof Rice.
Day 2 kicked off with a talk on "The Growth of Python Community in Africa" by Marlene Mhangani – A Zimbabwean who studied Molecular Biology at the University. She is a member of the Python Software Foundation and has been working in Zimbabwe to improve python use and get universities to adopt it.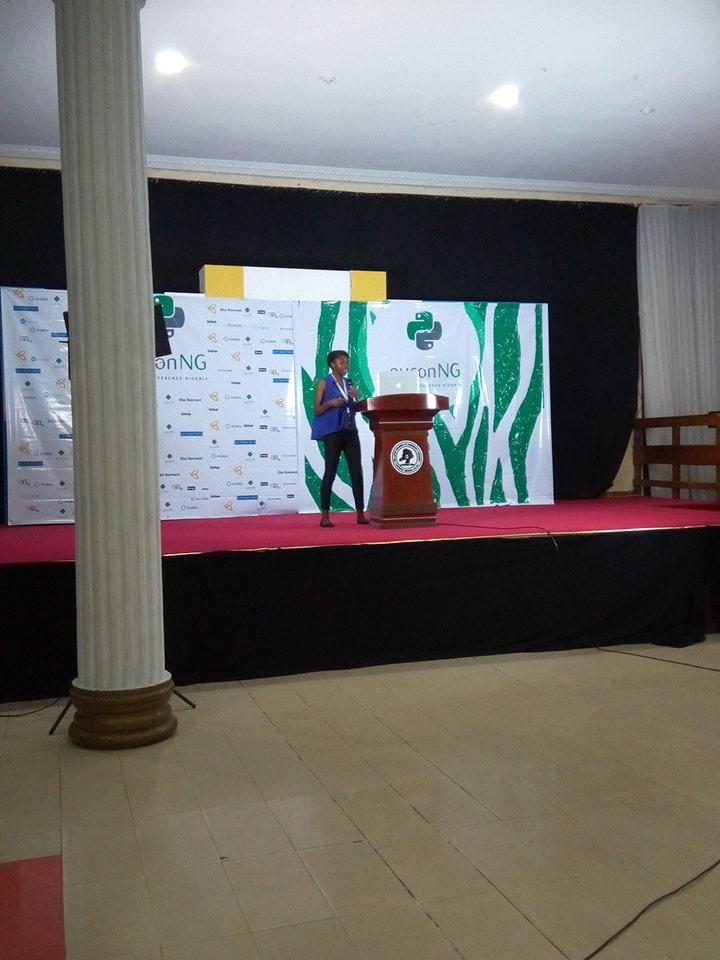 Olamilekan Wahab talked about Project Kubo- a project he is working on with some other partners to monitor Diabetes. His talk focused on his journey in working on health projects, particularly Diabetes. Equipped with an engineering background, Wahab and his team worked on a device that can calculate blood glucose level and upload the readings to a server or an app on a mobile phone using raspberry pi. The project is focused on improving access to quality health care, as most of the current solutions are quite expensive for the average user. The contraption from the screenshots looks quite bulky (about the size of a 7-inch tablet) without an industrial product finish but it is a proof of a product concept that actually works.
One of my best moments for Day 2, was when a 10-year old girl, Sophia Irozuru who in Primary 5 had already started programming gave a talk on her experiences so far.
Like seriously guys, what were you doing when you were ten years old?
For me, I was doing Ugo C. Ugo. Loll.
Alongside some of her classmates, she is part of the python girls group. Her talk was met with a loud applause by attendees at the conference.
PYCON2017 was a beautiful experience.
I appreciate the efforts of the Python Nigeria group – Aisha Bello and her team.
I also appreciate DoubleEph for his input.
You guys are awesome!
If you want to get into computer programming, python is a good place to start.
– Adewole Samuel (Python Programmer
You can follow him on twitter @Fixitsammie